Expect some attention.
The Tiguan
New discoveries await you. Thanks to its superior handling characteristics and advanced systems, the new Tiguan not only takes you off on new adventures. 
Warranty: 5 years 
Service plan: 5 years / 75,000km
Roadside assistance: 5 years
Registration and Licensing: FREE
Interior
Impressively equipped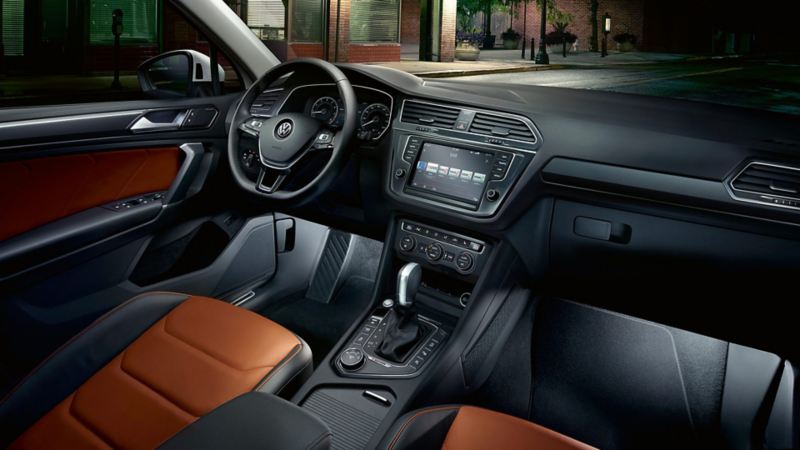 Passengers in the new Tiguan enjoy generous legroom in the front and rear.
The ambient lighting option enables the lighting intensity to be seamlessly adjusted via the central display, from atmospherically dimmed to brightly illuminated. Light strips in the doors, front and rear reading lamps and footwell lighting create particular notes.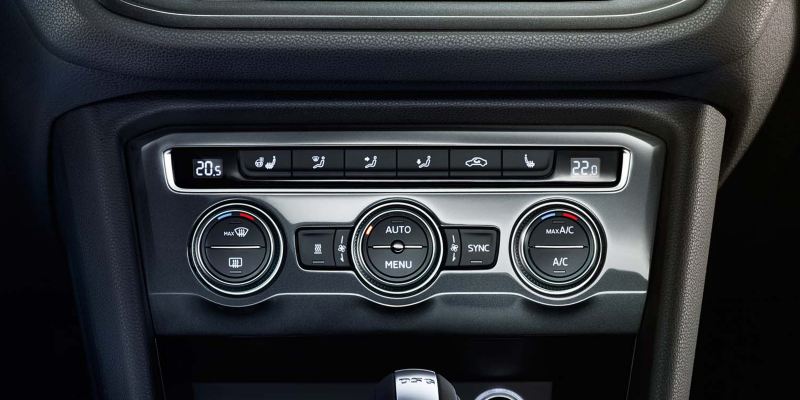 Climatronic" air conditioning system"
The standard 2-zone "Climatronic" air conditioning system enables the driver and passenger to set their own preferred temperature. The optional Climatronic air conditioning system with 4-zone regulation also takes into account also the temperature sensitivity of the passengers in the rear seats. Additional controls in the rear allow the rear passengers to regulate the heat, air supply and air distribution.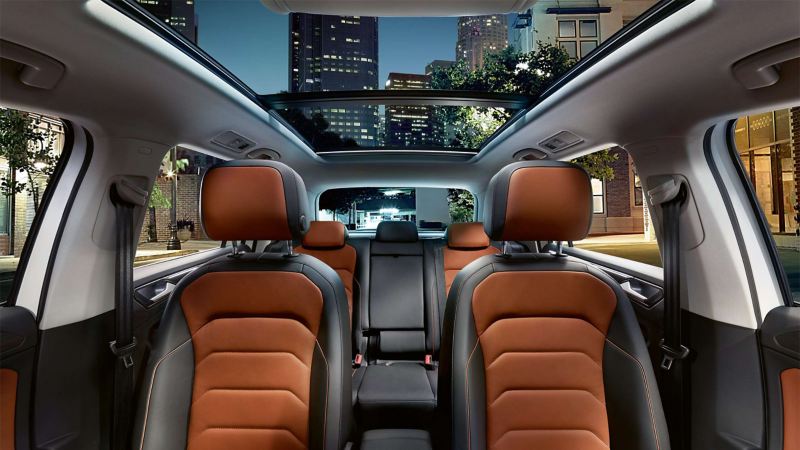 Panoramic tilting/sliding glass roof with background lighting.
The new Tiguan offers many visually appealing features in the interior too – thanks in no small part to the optional, generous panoramic tilt/slide sunroof. At night, the starry sky is framed to the left and right by subdued light from the roof. When opening the door, you are welcomed by soft lighting in the footwell and on the panoramic sunroof.
Optional 4MOTION permanent four-wheel drive works in milliseconds to adjust each individual wheel to the surface beneath it. This reliably prevents wheelspin and locking, so that the car retains secure traction on virtually any surface. 
You can choose between the four drive modes "Snow", "Offroad", "Offroad Individual" and "Onroad". The system interacts with the hill descent assist and the Electronic Stabilisation Program. Depending on the selected profile, drivetrain characteristics such as accelerator response, gear shifts and engine brake are modified. 
Infotainment
Turn on and relax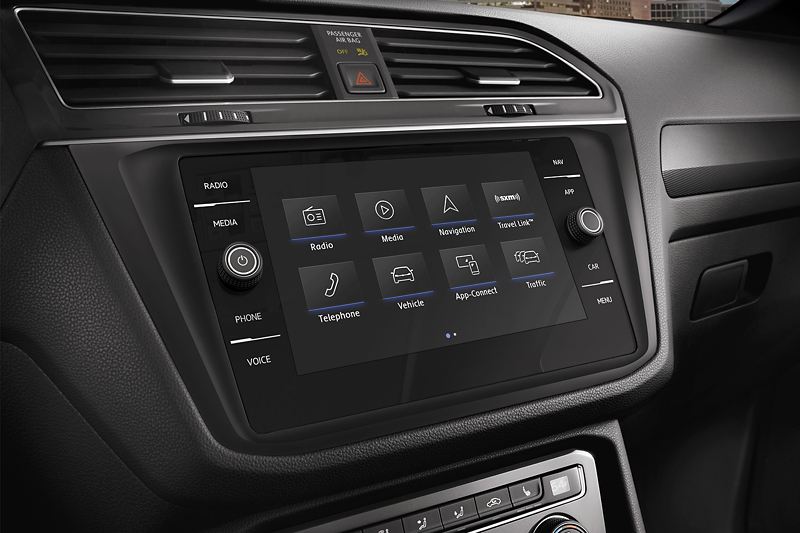 It doesn't matter whether you off on holiday, popping to the supermarket or about to embark on an adventure: Your new Tiguan ensure good entertainment and assists you with navigation. The "Composition Colour" infotainment system comes as standard in the S 1.4. The system features a multi-colour touchscreen display, a CD player, eight speakers and a radio with phase diversity for optimum reception.
The optional App Connect function makes it possible for you to easily connect your smart phone with the radio system Composition Media or with the navigation system Discover Pro which is optionally available. In this way, selected apps can be operated on your mobile telephone via the touch screen.
Volkswagen provides a total of three interfaces to connect smart phones with a broad range of options: MirrorLink™, Android Auto™ from Google and Apple CarPlay™.
Please also note that some apps are not on offer for each of these three options and the availability of this technology can vary according to the country in question.